Off we go! Our bags were packed. Had planned a little get-away for two prior to our "Permanent Change of Station" (PCS). We overnighted with friends en route to our vacation destination and when we prepared to leave in the morning, we saw it – a flat tire. Friends readily helped by supplying an air compressor to fill the tire as we decided we'd deal with the issue once we checked in to our lodging. Ironically, we'd just had the car serviced to include tire rotation, balance, and alignment.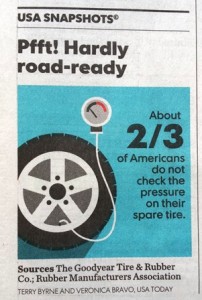 Better safe than sorry. Nothing like having to change a tire while you're on vacation. Though the tire was still holding but better to be safe and sorry so hubs commences to change the tire which wasn't an easy feat given the insufficient jack provided by the car manufacturer. At least we were in a safe parking lot versus being stranded along a super highway or a desolate area.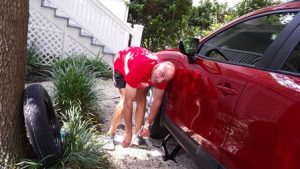 With the tire off, hubs set out to find a service station. The first stop resulted in a referral to the tire center down the road. It was a Saturday so the tire center was slammed. The staff listened to hub's saga and fit him in, tested the tire (found no damage), diagnosed it as loose valve stem, and sent him on his way without charge! Unheard of right? Well that's why I'm sharing this story with you. Quality customer service and kindness make an impact.
Many thanks to the folks at Barnard Tire Co Inc. Beaufort, SC!