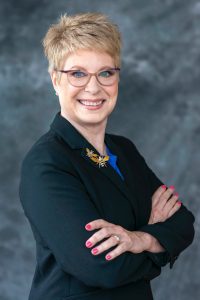 Meet Melissa St. Clair
Military Spouse Made Beeline to Entrepreneurship
I'm a worker bee.
The product of two working parents, I told my mother I knew I wanted to be a Secretary [just like her] in the 5th grade. As part of career exploration, I made a trifold brochure titled: Secretary, which she held on to for years.
Fast forward to 2006, and I am starting a new job at the local Chamber of Commerce when I get stung by the entrepreneurial bug. The cause and effect of this sting arose out of:
My desire to maintain a professional career alongside my active duty military servicemember.
Needing flexible and portable employment knowing PCS (permanent change of station) orders and future moves were imminent.
Inspiration by the small business owner members I was interacting with as the Special Events Manager.
The Virtual Assistant (VA) industry was just bubbling to the surface, becoming an option with the technological advances at the time. I seized the opportunity given the prospect of:
Becoming self-employed.
Helping others by continuing to do the work I love on my own terms.
I resigned from the Chamber and exchanged my staff position for a membership!
My first client was an agency I was already collaborating with who trusted me and took a bold move to utilize a Virtual Assistant (VA) in an executive services capacity. It was an obvious win/win. So often, timing is everything.
Being industrious.
Having a degree in business management, I attended workshops at the local Small Business Center to:
Learn business ownership and operations.
Network with professional colleagues.
I fully subscribe to the philosophy your network is your number one resource.
Keeping it buzzing.
The need for educating others about the who, what, why, when, where, and how to work with a VA was constant at the beginning. Technology and innovations progressed rapidly over the next decade along with a paradigm shift about the workforce. Small business owners are working smarter, delegating more, and utilizing the services of a VA as a cost-effective, value-added option.
Hive mind.
The nectar for my fuel:
Building a strong network of like-minded colleagues.
Personal, professional, and spiritual nourishment.
Community involvement.
No birds, just bees.
You may have noticed my affinity for bees. Here's the bee's wax on that. During my due diligence for startup, I discovered that entrepreneurs and small business owners needed a worker bee to take over tedious tasks and streamline systems to help grow their business. Later I learned Melissa in Greek means honeybee!
Along the way, I have adopted 3 B's for Success:
B present > difficult to do with distractions of life
B persistent > stay focused, don't give up
B positive > attitude is half the battle
Bee's knees.
When Melissa isn't buzzing about the office, she and her husband (USMC, Retired) are likely to be exploring their local community, enjoying a road trip, porch sitting with their cats, or honing their culinary skills in their hive.
Make a beeline.
I help busy solopreneurs, business coaches, and entrepreneurs get more done and have more time to handle business and family matters by managing a variety of admin office tasks remotely. Please tell me more about what keeps you busy!
 * * *Contact PAPER CHASER BIZ LLC* * *