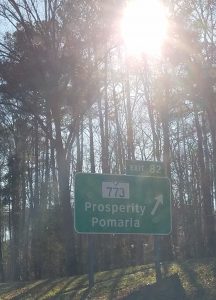 Driving to and from the lowcountry to the upstate (South Carolina) we passed the exit for Prosperity. Wow, to live in Prosperity, doesn't that have a nice ring to it? While tempted to stop and see what Prosperity looked like, we drove on but reveled at what an interesting convergence of passing Prosperity given the fact we have just turned the calendar to the New Year, the time when we wish others a "Happy and Prosperous New Year!"
Prosperity. According to Wikipedia, the current town name stems from the first settler s' anticipation of prosperity. The mindset of living a happy, successful and flourishing life was as fresh in the 1880s as it is today.
"Prosperity begins with a state of mind." Anonymous
The New Year is an ideal time to set or reset the course for your business and yourself, to exercise new ways of thinking – a paradigm shift or a growth mindset with a sharp focusing on your purpose and your dreams.
Business Hacks: 21 Simple Mindset Hacks for Entrepreneurs featured on Hack the Entrepreneur site offers 21 great tips.
As we step into the New Year, may you stay one step ahead!
Wishing you and yours a Happy and Prosperous New Year,
Melissa