2020 was a year for professional and personal development. It was also a year for a couple of creative projects.
THE KINDNESS ROCKS PROJECT™ has been an initiative I admired. Not familiar? The Kindness Rocks Project™ is a national movement encouraging people to leave rocks painted with inspiring messages along the path of life.
With art supplies gathered I finally tackled this project while enjoying some down-time over the holidays.
Supplies:
Lava rocks
Yellow spray paint
Black acrylic paint
White acrylic paint
Crystal clear acrylic spray paint
Paintbrush, small
Pencil eraser (dots for eyes)
Black Sharpie
Newspaper
Wax Paper
"If you hear a voice within you say 'you cannot paint,' then by all means paint and that voice will be silenced." –Vincent Van Gogh.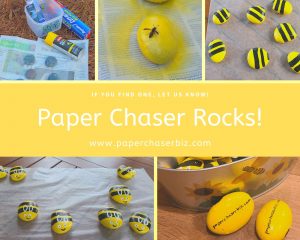 Not a masterpiece, but met my mission. 🐝
Next step is to plant them throughout my travels. Bee on the lookout! If you find one, do let me know. Click the graphic to Contact Us.