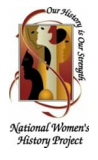 For Immediate Release
From:  Molly MacGregor, Executive Director, National Women's History Project
Contact:  (707) 636‐2888 or nwhp@nwhp.org
Re: March is National Women's History Month
March is National Women's History Month
In 1987 the US Congress designated March as National Women's History Month.
This creates a special opportunity in our schools, our workplaces, and our communities
to recognize and celebrate the often-overlooked achievements of American women.
Each year there is a special Theme and women whose lives exemplify that theme are
selected as Honorees.
The 2018 Theme for National Women's History Month is "Nevertheless, She Persisted:
Honoring Women Who Fight All Forms of Discrimination Against Women."
Throughout this year, we honor fifteen outstanding women for their unrelenting and inspirational
persistence, and for understanding that, by fighting all forms of discrimination against women and girls,
they have shaped America's history and our future. Their lives demonstrate the power of voice, of
persistent action, and of believing that meaningful and lasting change is possible in our democratic
society.
The 2018 National Women's History Honorees are:
Geraldine Ferraro (1935-2011) Politician/First Woman Major Party VP Candidate & Human Rights Activist
Pauli Murray (1910-1985) Women's Rights/Civil Rights Activist, Attorney, Author, & Episcopal Priest
Elizabeth Peratrovich (Kaaxal-gat) (1911-1958) Political Activist for Alaska Natives, Spearheaded First
Anti-Discrimination Law, USA
Margaret Dunkle Champion of Title IX
Jill Moss Greenberg Women's/Civil Rights Activist
Cristina Jimenez Immigrant (DREAMERs) Activist
Marty Langelan Anti-Violence/Anti-Harassment Activist
Loretta Ross Reproductive Justice Activist
Linda Spoonster Schwartz Women Veterans Activist
Susan Burton Criminal Justice Reform Leader
Roma Guy LGBT Rights/Healthcare Activist
Saru Jayaraman Labor/Restaurant Workers Activist
Pat Maginnis Abortion Rights Activist
Arlene Mayerson Disability Rights Attorney & Activist
Angelica Salas Immigrant Rights Activist
______________
For More Information and for Women's History Celebration and Education Materials
call 707-636-2888 or visit the www.nwhp.org web store
The National Women's History Project
Established in 1980, the National Women's History Project (NWHP) is a registered 501(c)(3) nonprofit
educational corporation dedicated to the promotion and recognition of multicultural American women's
history. NWHP led the successful Congressional campaign to recognize March as National Women's
History Month The NWHP has trained thousands of teachers on how to include women in the
curriculums, and NWHP materials are used across the country in classrooms, government agencies, and
civic organizations.