National Book Lovers Day was recognized just a few days ago. An observance I celebrated on my personal and professional social media platforms, and offline by reading. I wasn't always an avid reader. In fact, during my school days I used to feel like r.e.a.d was a 4-letter word, most likely due to the selections included in class curriculums, ya know, the "classics."
Confession, I was once a member of five (5) book clubs simultaneously:
Parris Island Spouses Club
Celadon Book Club
Waters Edge UMC Book Club
MCX (Marine Corps Exchange) Book Club
Susie L. McMahon's Virtual Book Club
Is being a member of five book clubs too much?
It proved to be so during the COVID-19 portion of 2020. Seeking simplification during that time, I pared down to one >>>>
Susie L. McMahon's Virtual Book Club.
Five years ago, I launched a Pinterest board on the Paper Chaser Biz LLC page, Five From The Hive where monthly tips, tidbits and buzzwords for success are shared. Click the link for 5 Ways to Read More Books.
In the spirit of Five From The Hive, Raven Reads shares The Top 5 Benefits of Reading Books:
Reading makes you more empathetic.
Reading keeps your brain healthy.
Reading reduces stress.
Reading helps you sleep better.
Reading sets an example for kids.
Excited to announce and extend an invitation to the September meeting of Susie L. McMahon's Virtual Book Club where I am honored to be co-featured with Dana Ridenour to talk about
Home Work A Collection of Poems Sparked by One White Woman's Journey on the Matter of Race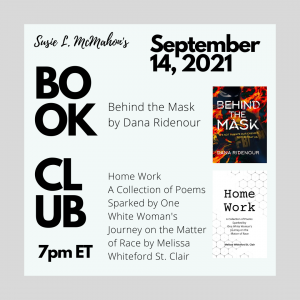 Join us on Facebook Live Tuesday, September 14, 2021 at 7pm Eastern.
What book are you reading right now?!