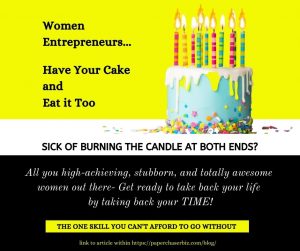 It's Friday afternoon and you've got 20 hours' worth of work in front of you, but only 2 hours left until the clock strikes 5:00. Guess you'll be working late again and have to cancel those lunch plans with your girlfriends tomorrow.
But that's okay – you knew there would be sacrifices. This is just what it takes to climb the ladder, start a business, stay on top… isn't it?
More than ever, career-driven women are feeling empowered to achieve – yet many are simultaneously feeling overwhelmed, exhausted, and unbalanced. Words like "burnout" have become ubiquitous on career blogs.
Fortunately, there is a way to have balance without burning the metaphorical candle at both ends – and without compromising family, relationships, health, OR productivity!
SO, WHAT IS THIS MYSTERIOUS, LIFE-CHANGING SKILL THAT WILL UNVEIL THE ELUSIVE BALANCED LIFE?
All you high-achieving, stubborn,
and totally awesome women out there –
get ready to take back your life
by taking back your TIME…
BEHOLD – The art of Delegation!
Some of the most brilliant businesswomen ultimately fail to reach their full potential when they simply cannot resist the urge to do it ALL themselves! Sound familiar?
Reluctance to delegate can occur for multiple reasons, such as the cost of hiring additional employees, not knowing what or to whom to delegate, harboring a sense of obligation or guilt, or having difficulty surrendering control and trusting someone else to do the job. After all, if you want something done right, do it yourself… am I wrong?
Whatever the reasons, failing to delegate
can have monumental consequences.
Why is delegating such a big deal?
According to the Gallup Business Journal, effective delegation is KEY to entrepreneurial success and expansion beyond the startup phase.
Gallup panel research demonstrated that entrepreneurs who know how to skillfully delegate are statistically more likely to experience business growth, job growth, and greater revenue (33% more in one study)!
When you delegate:
Delegating work can tremendously improve your productivity. Instead of tackling tedious administrative tasks, you create space in your schedule to focus on what you do best – engineering brilliant ideas, performing high-level business operations, and engaging in the invaluable act of networking.
Delegating (or not) can impact your bottom line. Not only is money lost when you are tied up with trifles and unable to focus personal efforts on business growth – but when your plate is already full, these extra projects may be created in haste or lack desired quality. Thus, your deliverable might not quite, well… deliver. This is especially critical when the work in question impacts the conversion of "leads" into sales or how the business is perceived by potential clients. Unnecessarily lost opportunities are spike strips to business growth and a poorly executed project… a sucker punch to your brand's reputation.
Lastly (and arguably most importantly), delegating empowers you to spend time on things that add value to your life outside of the job.
Because you do better work when you are happy and healthy!
What kinds of things should I delegate?
If delegating is difficult for you, start small. Pick one task that isn't a top priority but has been nagging you. Perhaps you need assistance developing an email marketing strategy, writing articles for your quarterly newsletter, or creating social media ads for your latest promotions.
Over time, you can start delegating larger tasks and even entire projects. Consider handing over the oft-dreaded creation of documents such as company and departmental workflows for training or standard operating procedures (SOPs) for your business. The possibilities are endless!
Who do I delegate to?  
Numerous avenues allow you to delegate or offload tasks and free up time. For example: hiring a new employee, purchasing new software, or establishing a service contract for business tasks.
In 2021, you are wise to start with services that specialize in improving business efficiency by:
·       automating processes
·       enhancing your digital presence
·       reaching your target audience
·       and converting leads to customers/clients.
HIRING EMPLOYEES MAY SEEM LIKE A LOGICAL STEP, BUT IT BEHOOVES YOU TO CONSIDER OUTSOURCING CERTAIN TASKS OR PROJECTS.
A Forbes article evaluating the pros and cons of outsourcing, identified this practice as a way to "get the best of both worlds" – in that outsourcing gives you access to a talent pool outside of your immediate community and allows you to find cost-efficient help without sacrificing quality.
While sites like Upwork and Fiverr can be great resources to find freelancers for some small jobs, never underestimate the value of hiring a company devoted to more comprehensive business operations.
Choose one known for stellar communication and quality results, such as Paper Chaser Biz LLC – offering a plethora of collaborative virtual administrative services.
The investment will be well worth the
enhanced productivity, conversion of customers,
and newfound balance in your life!
Are you eating cake yet?
DELEGATING WORK IS NOT A NOVEL CONCEPT…
Yet so many women struggle to execute this skill.
Upon recognizing the potential benefits, understanding the barriers, and identifying the "what" and "who" of delegation, career-driven women (that's YOU)- can absolutely achieve that elusive work-life balance and watch business productivity soar.
You can, in essence, have your cake – and eat it too!
For more information like this, subscribe to the Paper Chaser Biz newsletter
OR
check us out today and learn what Paper Chaser Biz services could mean for you and your business!