Administrative Professionals Day® highlights the important role of administrative professionals in all sectors of the modern economy worldwide.
The History of Administrative Professionals Day was well, err, originally "Her"story. Administrative jobs of yesteryear were typically held by women.
National Professional Secretaries Week and National Secretary's Day was created  in 1952 through the work of Harry F. Klemfuss of Young and Rubicam. Klemfuss recognized the importance and value of the position to a company or business. His goal was to encourage more women to become secretaries. Using his skill and experience in public relations, Klemfuss, promoted the values and importance of the job of secretaries. In doing so, he also created the holiday in recognition of the importance of secretaries. (Source: Holiday Insights)
Through technology, administrative functions have evolved. Apps, computer keyboard shortcuts, and new software, have helped to streamline processes and enable today's administrative professional to work smarter, not harder.
The professional observance was known as Secretary's Day when I entered the workforce and it has been exciting to be a part of the transformation. Read more insight's in my LinkedIn article: Today's Administrative Professional.
Military Admin
There are numerous office and administrative support positions in the US military. Military personnel work in admin shops aka N-1 (US Navy), and S-1 (US Army and US Marine Corps).
This photo depicts a typical N-1 shop aboard a US Navy ship. A Petty Officer First Class with his IBM Selectric. (Taken aboard the USS Wisconsin).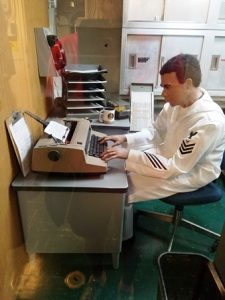 Today, administrative professional roles are gender neutral; and basically all you need to run a full-scale business is one Smartphone!