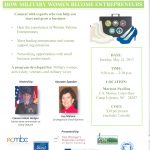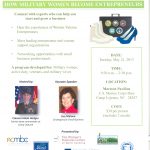 This event being held Tuesday, May 21, 2013 from 9:30am to 2:30pm at Marston Pavilion aboard MCB Camp Lejeune is for female active duty personnel and military spouses to explore the exciting world of entrepreneurship as your next "tour of duty."  Hear the stories of women veterans who own their own businesses, discover what it is like to think like an entrepreneur, find out what services and programs you can access to get help starting your own business venture and take advantage of the opportunity to meet with them one-on-one.
The presenting partners for this event include the Small Business Center, Coastal Carolina Community College, Jacksonville-Onslow Chamber of Commerce, Women's Business Center of NC, the N.C. Rural Economic Development Center Inc. and the N.C. Military Business Center.
Recap: Melissa St. Clair, military spouse entrepreneur will be on hand at A New Mission: How Military Women Become Entrepreneurs" to talk about portable career at her display table.