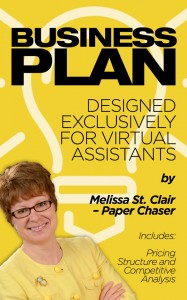 Writing a Business Plan is the first step for setting your business up for success and reducing mental stress of committing your plans to memory while you are bringing your vision to fruition. If you're thinking about small business startup as a way to earn extra cash for the holidays or set that as goal for 2015, give your small business an advantage by planning ahead and writing down the critical steps for planning.
Paper Chaser has designed a Business Plan template exclusively for Virtual Assistants and during the month of December is offering a complimentary 15 minute consultation session (a $25.00 value) to anyone who purchases a Business Plan template. The template which includes Pricing Structure and Competitive Analysis as well as instructions, pre-filled sections and annotations is available on the Paper Chaser website at http://paperchaserbiz.com under the Rates and Services tab.
We'll use your 15-minute complimentary consultation session to discuss a business plan related burning question or talking point!
My goal in creating this step by step Business Plan template exclusively for Virtual Assistants is to ease the pain in taking one of the first actions to establishing or outlining a VA Business.
Get a jump start on earning extra money for the holidays or launching your small business startup in 2015!