News from the December 2021 edition of Beaufort Lifestyle.
The Beaufort-based Luxe Lowcountry Travel is hosting its inaugural Lowcountry Literary and Leisure Getaway on March 9-13, as an opportunity for dozens of literary pilgrims to experience Pat Conroy's beloved lowcountry through an inviting and immersive itinerary of special events and tours. Three of those special events will also be open to the public, presented as fundraisers for the nonprofit Pat Conroy Literary Center.
Wednesday , March 9, 5:00-7:00 p.m.
Meet & Greet Authors Reception, Sponsored by Luxe Lowcountry Travel
Beaufort Inn's Craven Courtyard, 809 Port Republic St., $45/person
(Reserve the March 9 Author Meet & Greet and the March 12 Lowcountry Boil for $90/person)
Includes appetizers, beer and wine, and the opportunity to meet nine authors representing an inviting mix of genres. Books will be available for sale and signing. Scheduled to appear: Cassandra King Conroy, Tell Me a Story: My Life with Pat Conroy; Donna Keel Armer, Solo in Salento; Rebecca Dwight Bruff, Trouble the Water; Estelle Ford-Williamson, Rising Fawn; Sally Handley, Second Bloom; David James Poissant, Lake Life; Dana Ridenour, Behind the Mask; Melissa St. Clair, Home Work; and Susan Beckham Zurenda, Bells for Eli.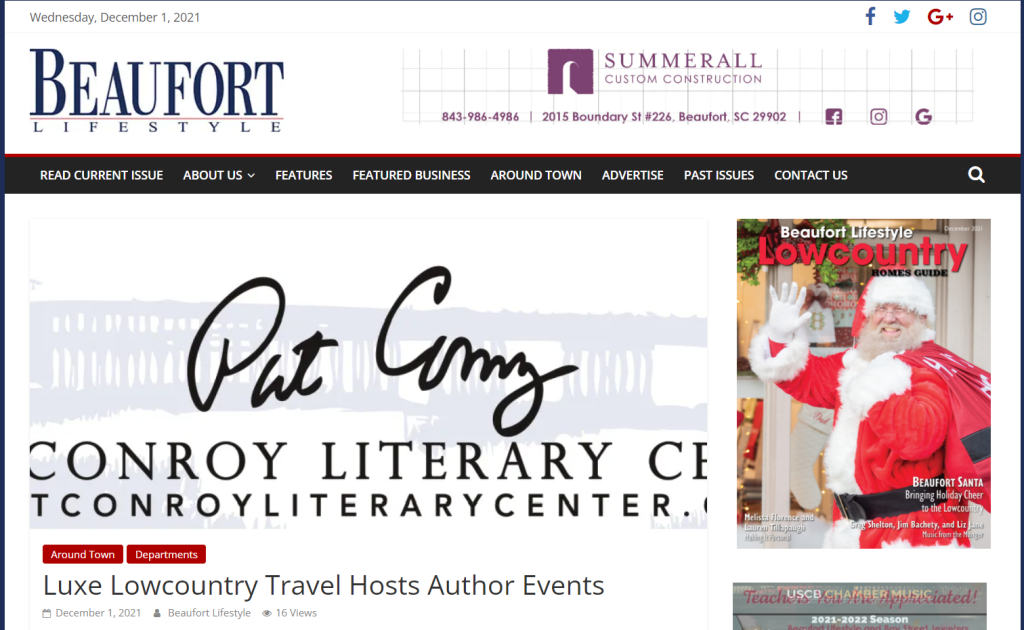 Learn more and register to attend at https://luxelowcountrytravelconroycenterfundraiser.eventbrite.com.
Read the full article here.
More from the Luxe Lowcountry Travel blog here.