Are you a busy solopreneur, a solopreneur starting to add team members, a small business owner with a team, OR a supporting team member?
I've decided to offer a guided DIY (Do It Yourself) course, All Systems Go: Standard Operating Procedures Simplified using a simple recipe with three goals:
Increase confidence in writing Standard Operating Procedures (SOPs).
Increase organization of business operations and prepare for growth.
Decrease the stress of being solely responsible for retaining working knowledge of the business.
Why do we need this SOP?
Be and feel more organized as an entrepreneur. Release the pressure of maintaining all working knowledge in your brain! Slash stress. Save time. Reduce errors and omissions. Streamline processes for efficient and effective workflow.
For every hour of planning, 3 to 4 hours are saved from redundancy, waiting for information, not being prepared, and poorly managed tasks (simplyproductive.com)
Companies, on average, spend as much as 16 days a year looking for paper documents. (docusign.com)
Where would we use this SOP?
SOPs should be written to capture any/all business operations from Mission, Vision, and Values through the daily life of the business to Exit Planning.
When would we use this SOP?
At startup, define all processes: 1-off, day-to-day, week-to-week, month-to-month, quarter-to-quarter, annual, review, and update as necessary.
How do we go about using this information?
Reference guide for self and training tool for team members. Collateral to leverage when selling business.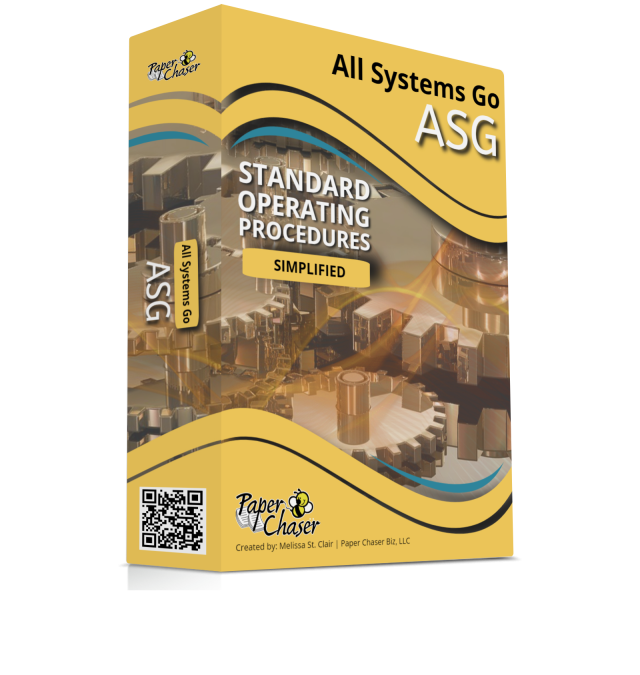 SIGN UP NOW!