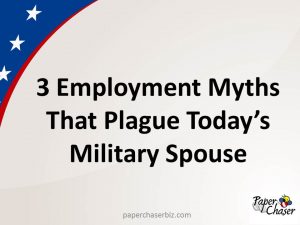 Merriam-Webster.com defines a myth (noun) as an idea or story that is believed by many people but that is not true.
Military Spouses,
Don't fall prey to age-old fables about employment in relation to your military lifestyle.
Don't let yesterday's yarns and beleaguered beliefs hold you back!
No more tall tales!
Let the truth be told!
Discover the tried and true reality of earning a consistent income in a portable career.
Here's a special invitation to you…
Free Webinar!
3 Employment Myths That Plague Today's Military Spouse
2 opportunities to attend!
February 25, 2016 at 12:15pm ET OR February 27, 2016 at 10:00am ET
In this 1-hour webinar you will gain a fresh perspective as we debunk the top 3 employment myths that keep military spouses from earning a great income in a portable career.
You'll learn about how being a military spouse can get you a job

You'll learn about options to earn a consistent income

You'll learn how owning your own business fits a military lifestyle
More information and registration at: http://paperchaserbiz.com/3myths4militaryspouses/
Copyrighted material. All rights reserved. Paper Chaser. 2016