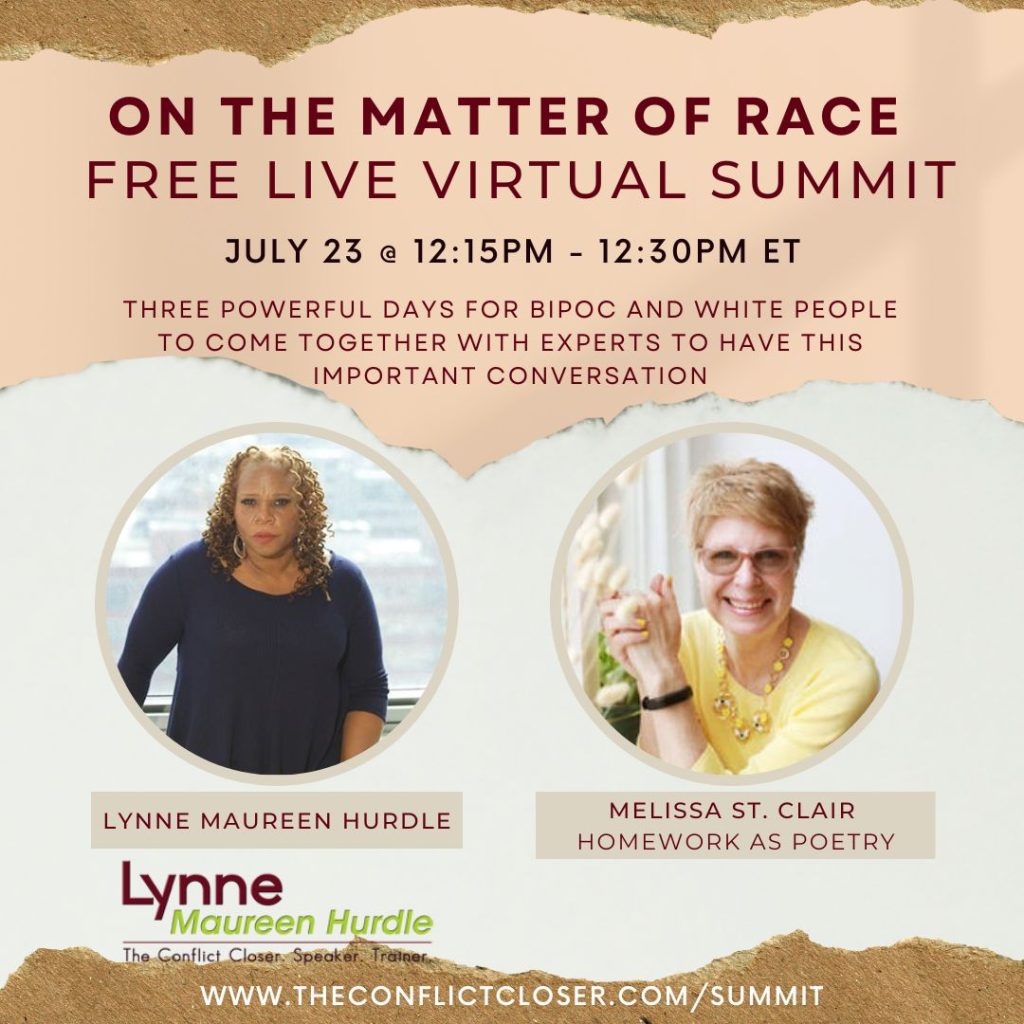 I'll be interviewed LIVE in this amazing event about my first book of poetry, "Home Work A Collection of Poems Sparked by One White Woman's Journey on the Matter of Race." 
Join me and 20 other accomplished speakers at…
The On The Matter of Race Live Virtual Summit
Racism: Why White People Must Learn HOW to Be Part of the ConversationThree Powerful Days For BIPOC and White People to Come Together With Experts to Have This Important Conversation
This FREE LIVE Virtual Summit takes place on:
July 21, 22 & 23, 2022
10am – 3pm ET July 21 & 22, 2022
11am – 4:30pm ET July 23, 2022
My interview will be on Saturday, July 23, 2022, at 12:15 pm Eastern.
Dismantling racism does not happen simply because there is a desire to see change and justice.
It is a process of learning how to have hard conversations with BIPOC without shutting down or being defensive, then bridging these conversations with White communities.
The On The Matter of Race Summit is the first step on this journey.
While historically White people have been involved in the fight against racism, there is a desperate need for understanding how to participate in ways that productively support the efforts of Black, Indigenous, People of Color without upholding the conscious and subconscious practices of systemic racism. For BIPOC there is a deep need for the daily and generational effects of racism on their lives to be validated, understood further, and for them to hear and express how white people can effectively participate with us in the fight against racism.
In this 3 Day Summit, You Will Learn From Over 20 Accomplished Speakers About:
The On The Matter of Race Program and the Effect It Has Had On the Lives of Our Participants – Directly from them
The Experiences of Being a Young Person of Color in America
Systemic Racism and How It Affects Our Lives in:

Healthcare
Criminal Justice
Education
Mental Health
Parenting
The Legal System including The Crown Act
Relationships
Everyday Life
Don't Say You Want to Do Something to End Racism. Take steps to end it by attending this Summit.
Get all the details and sign up for free here… https://theconflictcloser.com/summit