The year-end is a time of reflecting, tweaking, evaluating, tallying, and readying yourself and your business for the New Year. List your successes and celebrate those achievements! As your Business Plan is a living, working document, add that list along with a summary and while you're at it, why not take the extra step to share the accomplishments? Here's what Paper Chaser Biz LLC was up to in 2019:
January
Creative Click Media: New Year's Resolutions for Business: 2019 Edition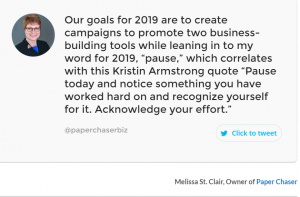 February
Tim & Jim Show: Slash Stress with Standard Operating Procedures
March
Shop Military Stories: Melissa St. Clair, Paper Chaser
April 
Celebrated year #13 business anniversary
May
IAMCEO Podcast:
IAM290- Virtual Assistant Supports Small Business Owners With Online Office Support Services
National Military Spouse Network: Storm The Hill [1:03]
July
CSI Corporation: 35 Entrepreneurs Share Their Biggest Marketing Mistakes
September
Led Pledge of Allegiance – Thomas Heyward Jr. Chapter DAR – Constitution Week
Completed first term Board Member, Born To Read Inc.
October
Camp Lejeune Career Summit | Keeping a Career on the Move Milspouse Symposium: Real Spouses, Real Stories panel
December
Lowcountry Weekly: Investing in Tech
Sponsorship: Wreaths Across America
Miscellaneous
Blog posts: 10
Information table:
Marine Corps Community Services Career Fair 11/7
Lowcountry Ladies Luncheon 8/8, 11/15
Pro Bono: Born To Read Inc (Board Member): Press Releases broadcast: 11
Curious to know if I achieved my goals stated in the article vignette? Yes!
2 campaigns were promoted in social media using the 80/20 rule and in The Buzz newsletter > opt in here.
Grab your free copy of Delegation Review: Drilling Down the Decision to Delegate
Use this tool to determine which areas of operation and/or task(s) to delegate. Delegate and do more!
Standard Operating Procedures (SOPs) are the backbone of business systems. Click here to get started writing Procedures for your small business by purchasing an easy-to-use template!
2019 Word = Pause: social media campaign along with active listening for the use of the word and journaling.